Our last stop on our Atlanta Vegan Grub Crawl was Healthful Essence, a Caribbean vegan/vegetarian restaurant, featuring Jamaican specialties. As we walked through the door we were greeted by reggae music and the smell of incense and spicy things. They have a rotating menu of raw as well as cooked dishes to choose from.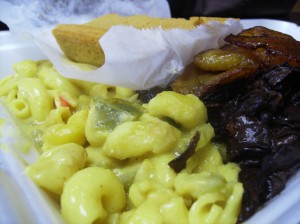 The specials are written on the black board but they will gladly walk you down the line of today's selections, lifting steamy lids offering you a peek of what is inside. We built our own sampler platter (pick three from the menu) with Macaroni UnCheese, Jerk UnChicken and Sweet Potato Corn Bread. The plate was then garnished with a few fried sweet plantains to further tease your appetite.
The Jerk UnChicken was shredded and piled high on the plate. It was smoky, sultry and spicy, introducing complex heat before you finished the first bite. Its developed flavor went well beyond anything I have ever tasted, vegan or otherwise. It was spicy in that way that makes you continue to eat just one more bite in an effort to put out the fire. But it never ends and it just leaves you wanting, needing more. It was addictive and I still think about it.
The macaroni looked unlike any mac I had ever had. It was peppered with diced celery and red peppers which made it divine. The sauce was creamy, robust and exactly what I needed to tame the heat from the Jerk UnChicken. Don't order the jerk dish without I if you want to be kind to yourself. Paired with a bonafide slab of sweet potato corn bread....we left in agony even though we shared one plate. The portions were generous and the food blew my mind. Thank goodness we hadn't gone there first. I may not have left.
Sherry Duquet | Facebook
Sherry is on a mission to inspire others to join in her journey to change the world, one meal at a time. As a long time vegetarian and vegan newbie, Sherry launched a compassionate living blog
Exploits of a Vegan Wannabe
where she welcomes meat-a-tarians, vegans and anyone interested in creating change with their choices and voices.
Photo credit: Sherry