This is the continuation of my vegan grub crawl across the city of Atlanta. When we left off, I had just been to an all vegan bakery and deli. Next stop, mind eracing doughnuts.
After we left Dough Bakery and Gutenfleischers we drove east toward Decatur, Georgia, home of Revolution Doughnuts. They are a small batch doughnut shop featuring organic coffee and the most voluptuous doughnuts I have ever seen.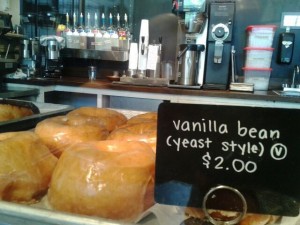 They come in yeast style, filled, baked cake and cake style. Standing in front of the case felt like standing in a Tiffany & Co with a Black Amex. I felt limitless and effervescent. Each doughnut had its own sign, the vegans marked with a V for easy spotting.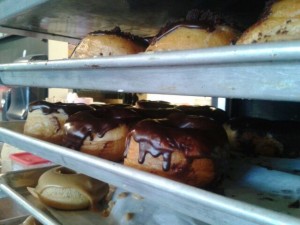 The day we visited there were at least fifteen flavors to choose from, most of them vegan. Round puffy pillows infused with tart lemon curd and dusted with coarse sugar. Dark chocolate enrobed cakes the size of nautical life rings.
We ordered several to go because we were both still so full from Gutenfleischers and Dough Bakery. Sandy went to the ladies room and when she returned she caught me with cheeks the size of a very active squirrel and coarse sugar all over my mouth. "I thought we were waiting," was all she said. "We were," I replied with unwarranted pride. What happened was as I sitting there waiting for her I realized that it would be much more authentic if I photographed the doughnuts while we were still in the shop. So, I hoisted one out of the bag and set it down on the table. As I snapped a few shots it occurred to me that the photo would look tastier if you could see the lemon curd captured inside, so I broke open the doughnut. That was it. I had half of it in my mouth before she returned.
I am finding it difficult to verbally elevate these vegan doughnuts to the place they have wedged inside my heart. They were outstanding and I shall never forget them. I bought a t-shirt and have worn it twice.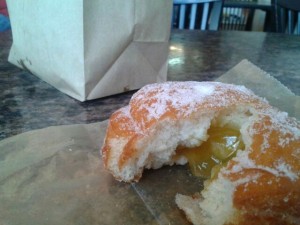 One bite and it is abundantly clear, they have been baked with care in ovens of love. If you find yourself within 300 miles of Decatur, Georgia, stop by Revolution Doughnuts and just give in as your better judgement escapes your body leaving you powerless. Don't fight it...just bite it.
Sherry Duquet | Facebook
Sherry is on a mission to inspire others to join in her journey to change the world, one meal at a time. As a long time vegetarian and vegan newbie, Sherry launched a compassionate living blog
Exploits of a Vegan Wannabe
where she welcomes meat-a-tarians, vegans and anyone interested in creating change with their choices and voices.
Photo credit: Sherry