I love sharing about vegan travel because before I went vegan, I believed that traveling as one would be a challenge. Over the past few years I have come to realize that isn't the case at all. With a bit of planning, it is just as easy to find a compassionate meal while on the road. This will also make it easier to find the most unique places in the area you are visiting, which is always more delicious.
Recently while visiting family in Atlanta, my partner and I decided to go on a self created, self proclaimed vegan grub crawl. We were on our way to a natural history museum in an area that we were only somewhat familiar. I did a HappyCow search for a vegan lunch spot so we would know where to go when we were ready to dine. Nothing worse than searching for vegan edibles when you are famished.
The list of vegan friendly and exclusively vegan places blew my mind. I clicked on menus, made a list of addresses and announced,"We are going on a vegan grub crawl, the heck with the museum." We hopped in the KIA with a credit card, the camera and an appetite for adventure. I felt like the female, kinder, vegan version of Anthony Bourdain. It was an absolute ball. I could do this for a living but it would require much larger clothes and a generous travel sponsor.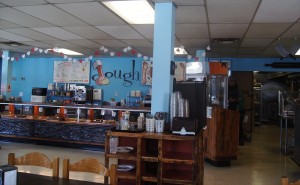 We had four different dining experiences in only three destinations because two of the places we wanted to try were in the same building. Bonus. Throughout the week, I will share all four with you in the order that we experienced them, starting with today's post from Dough Bakery and Guteinfleishers Vegan Deli. Now, if you find yourself in the Atlanta area you will have a few new places to check out.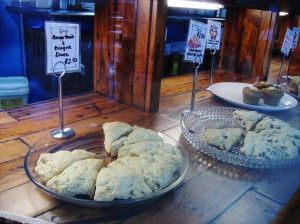 Dough Bakery and Gutenfleischers share the same building. Both are vegan which makes decision making a welcome challenge. As you walk in. you are welcomed by the Dough bakery case which is adorned with familiar favorites like sticky buns and cinnamon rolls.
There are also epicurean offerings such as Grapefruit Ginger scones and German Chocolate brownies. They also have steaming mugs of coffee and soft serve ice cream cones. My mind raced as I began to order. "I'll have this for here, two of these to go..." I realized I was on joy and desire overload and had to reel it in, so I walked away to order my sandwich.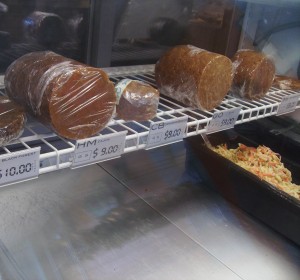 Gutenfleischers is the next counter over. They offer soup, sandwiches and deli salads. You may also purchase their meats and salads by the pound to enjoy at your leisure. The day we visited, their special was a Southern icon, the Pimento Cheese sandwich. I ordered mine with tempeh bacon, banana peppers, pickles and lettuce. Sandy ordered the Cajun slices with mozzarella cheese, spicy brown mustard, mayo and all the veg fixins. Both sandwiches arrived on the freshest oat bread with dill pickle spears.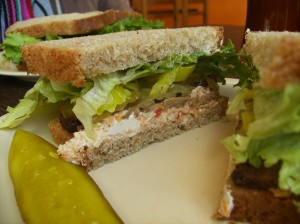 I savored my sandwich like it was my very last meal. I had mistakenly given Sandy a half of my sandwich in a well meaning trade for half of hers. I made her trade it back. It was so outstanding. It was spicy, creamy and salty. The veggies were crisp and the spread was divine.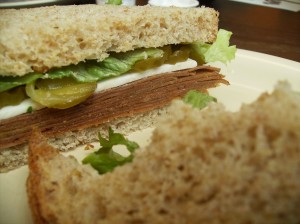 As I was polishing off my entire sandwich, I realized that I had broken the cardinal rule of grub crawling...never, ever finish anything you order. Taste and move on with a buxom doggie bag. Too late.
I left with a belly ache and two more destinations to go.
Grub crawling is so fun. In part deux and three I will tell you about two more Atlanta veg destinations, Revolution Doughnuts and Healthful Essence. They are worth the wait and your own visit.
Sherry Duquet | Facebook
Sherry is on a mission to inspire others to join in her journey to change the world, one meal at a time. As a long time vegetarian and vegan newbie, Sherry launched a compassionate living blog
Exploits of a Vegan Wannabe
where she welcomes meat-a-tarians, vegans and anyone interested in creating change with their choices and voices.
Photo credit: Sherry