When I decided to adopt a vegan lifestyle, I was admittedly just a vegan in diet at first. However, it quickly began to bother me that many of the products I bought and used on a regular basis were in fact, not vegan. So I decided a change was in order. Aside from the leather handbags, suede shoes, and wool sweaters that I vowed to give up, it soon dawned on me that I needed to revamp and rethink some of my most important products - my cherished beauty supplies. I was almost embarrassed by the amount of everyday products that I had purchased that I never thought would be harmful - even the ones marked "cruelty free." (By the way, how ridiculous is it that some products can claim "cruelty free" by not testing on animals but still contain animals in them? That's a little backwards to me.)

Anyway, because my job requires me to be on camera and looking as close to "flawless" as possible - with sometimes very little notice - skin care is uber important to me. When I went vegan in diet, I was super nervous about making my skin products follow suit, mainly because we are programmed to think that fancy chemicals and ingredients we can't properly pronounce are what makes a product really work. Wrong. Then one day I started thinking about how the skin is the largest organ of my body, and it freaked me out that I was putting harsh and unnatural ingredients on it. Shortly after I realized the simple truth that if I was vegan in diet but my beauty products were not, then I was not really a vegan. The skin is not only the largest organ of our body but it also acts like the largest sponge ever, and absorbs
everything
, so in theory everything we put ON it is really ending up inside us, including, say any animal products found in your favorite lotion or soap. For me, the number one factor is the welfare of the animals and I certainly do not want to be rubbing any product on my face that contains remnants of my dead four legged buddies.
Since that day, I have been on the lookout for the best vegan beauty and skin care products on the market. It wasn't easy at first, but a little research unveiled a bevy of beauty businesses that offered vegan options to keep you looking sexy! Some of them might surprise you, and many of them are fairly large companies with products that are easy to find. One of those companies is Lush, who specializes in fresh handmade natural cosmetics, and with over 600 locations in 43 countries, can be found in just about every major city. Or if you live in the middle of nowhere, there's always their
online shopping
!
The awesome folks at Lush have an extensive collection of vegan products and sent some my way for me to try out (lucky me!) and review (lucky you!).
I want to preface this by saying that I gave every product ample use and time before writing this review. I used each product for over 2 weeks to ensure the review was as accurate as possible, and to make sure none of the products caused any irritation or side effects (not to worry). I also wanted to know how these products worked with various skin types so a trusted friend of mine with the exact opposite skin type as me, used all the products everyday as well. Where my skin is mostly clear, and is sensitive and on the drier side, their skin is more oily and prone to breakouts. So you're getting a balanced review from two different skin types. Without further adieu, let's get into the products:
Sexy Peel Soap
: The name alone is enough reason to love it. A soap that makes you look and feel sexy? Yes, please! However, when I first received my shipment of products from Lush, and tore open the FedEx package like a little kid on Christmas, I was taken aback by this soap. This....
bar
soap. I was admittedly unhappy and slightly skeptical because I've always thought bar soap equalled dry skin and nasty germs. No thank you. But being the team player that I am, I sucked it up and decided to try the soap in the name of science - vegan science!
To it's credit, before I even tried the soap, I could not deny how amazing it smelled. It's filled with grapefruit, lemon and lime to cleanse and refresh, help alleviate tiredness, and produce clarity of thought. It sounded appealing, and much to my surprise, it was. After trying this cleanser, let me just say that this is hands down my favorite facewash I have ever tried and I will no doubt be using it from here on out. It's that good, people. My skin looks and feels great. Even my friend who is a professional in the skin care business noticed the difference in my skin! I highly recommend this soap to EVERYONE.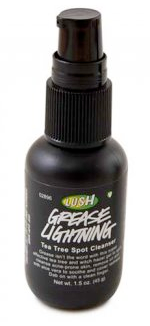 Greased Lightning
: This topical blend of herbs and essential oil aims to sooth skin and clear up blemishes. It contains witch hazel, thyme, calming rosemary and antibacterial tea tree which creates a highly effective antiseptic that cleanses skin and helps spots disappear with....
lightning
fast speed. See what I did there? It also contains lavender oil which helps regulate oil secretions in the skin, which we all know is a big culprit in causing those dirty little breakouts.
Luckily for me, my breakouts tend to be few and far between, but my friend who's more prone to breakouts really loved it and benefitted from this product. The clear gel helped reduce oil and over the 2 week trial period the overall quality of their skin improved. It can dry you out, so I recommend partnering with an oil-free moisturizer.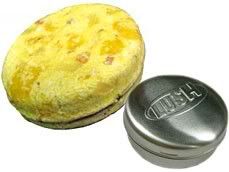 Godiva Solid Shampoo
: Yes, you read that right - a
solid
shampoo. Not your typical shampoo in a bottle, this is a bar shampoo. One thing that I loved about this product was the tin packaging that not only looks awesome and takes up less room in the shower (score!), but it's much better eco-friendly packaging for our friend Mother Nature than it's plastic bottle counterparts. Bonus points, for sure.
Now, my hair tends to be on the drier side, so I need a shampoo that is more moisturizing and less cleansing. I found this shampoo to be a little too cleansing for my needs. But if you need or want an ultra-cleansing shampoo that smells great, this product is for you. Jasmine, ylang, ylang, cypress and palmarossa oil give this shampoo it's soothing scent, and the bar is packed full of macadamia nut oil, shea butter, and coconut oil to ensure your luxurious locks are so fresh and so clean.
Big Blue Bath Bomb
: I've never been a huge bath lover. I didn't get
it. The thought of sitting in a porcelain puddle of still water for an extended period of time just didn't appeal to me. So naturally, I procrastinated on using this product until one day when I just so happened to be in a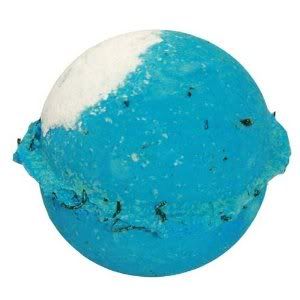 world of pain from an excruciating workout and intense ballet class. My body demanded a bath, and I obliged. So I unwrapped the Big Blue Bath Bomb, fired up the hot water, and dove in feet first.
Wow, this little guy is amazing! It helped rejuvenate my body, eased my pain, and left my skin feeling moisturized. Plus, the 5 year-old in me loved that as soon as it hits the water, it erupts into a fizzin' and bubblin' symphony of awesomeness. As it dissolves, miniature pieces of seaweed, sea salt and other all-natural goodness are released into the bath to help relax your mind and body. Plus, it totally turns the bath water blue, which is fun no matter how old you are.
This little blue ball single-handily turned me into a bath taker. Now, I understand. This is the reason people take baths. I fully plan on using this Bath Bomb once a week. Minimum. Thank you, Lush!
Veganize and beautify your life at the same time! Check out these, and other great products from Lush. I know I will!
Hayley Marie Norman | @xoHayleyMarie
Hayley Marie, a vegan, is a Los Angeles based actress that has appeared in numerous films including
Hancock
and
Fired Up
, as well as several tv shows such as
Crash
and an upcoming stint on
CSI:NY
. She is also known as being the girl with the wild crazy afro, aka #25, on
Deal or No Deal
. For more information about Hayley Marie check out her
blog
.
Photo credit: Lush